Changes to the sales organization are inevitable!
Increasingly complex sales. A more strategic role amid the crisis.
The year 2020 sent shockwaves through companies across the globe. Overnight, businesses were forced to learn how to sell remotely, guide their key accounts in managing the situation, and speed up the integration of new technologies into their practices. At the same time, many of these changes were already underway. Sales has been growing more complex and companies have had to find ways to stand out in terms of what they offer their customers, but also how they sell and start the conversation with their clients. Remote selling was already widespread in some sectors. For several years now, major software publishers operating under an SaaS model and digital start-ups have provided striking examples of this shift.
Three fundamental trends accentuated by the crisis:
The "premiumization" of the sales function
In 2015, the American consulting firm Forrester predicted the loss of a million B2B sales jobs in the US
This phenomenon has mainly affected "order taker" sales roles in fields with low added value. There is another category, on the other hand, which grew 10%: business developers and key account managers capable of selling partnerships, projects and complex solutions to major client organizations. All companies are now seeking these high-level profiles with the ability to win over a wide variety of contacts in different roles—people who can discuss value and innovation with board members while also having a good handle on the company's expertise and experience in the field. Evidence of this new mindset can be seen in the corporate world with the growth of Sales Excellence departments devoted to boosting sales organization performance, developing highly professional sales forces, and properly implementing methods and tools.
The "servitization" of the economy
A study of 50 leading industrial firms by the US-based Technology Services Industry Association (TSIA) demonstrated that the sale of services as a share of revenue has progressed steadily since 2008, to the detriment of product sales. Digitalization is ramping up the development of services, and their complexity. Many fields are being transformed by innovative service offerings and the emergence of new just-in-time business models which reduce CAPEX outlays. Sellers need to offer new solutions that are both agile and tailored to local needs in areas such as financing and connected services—sales representatives are no longer needed to sell products or simple services. But there is a dire need to sell more sophisticated services customized to suit each client. Services will make up 75% of the global economy by 2025, measured in GDP value, so there's still much to invent… and to sell!
The focus here is on solutions co-developed with clients, which lead to changes to their practices and restructured teams. This is not merely an "update"; it's an overhaul of processes with the addition of new technological building blocks and new client methods.
One of the pressing consequences for salespeople aiming to sell these innovations is the need to expand their list of contacts at client companies and oftentimes within their own company. Presenting a convincing argument for complex solutions involves talking to your own project teams, which comprise specialists in financing, human resources, marketing, IT, country / BU divisions and more. This is a new approach to sales where you serve as a business advisor.
Hybrid B2B and B2C models
The financialization of the economy over the past two decades has led to a flurry of mergers and acquisitions across all countries and business sectors, which was barely slowed down by the 2008 crisis.
Companies' sales are increasingly dependent on a handful of very large clients. Which is why Key Account Management programs are on the rise.
These programs are conducive to very tight-knit relationships with clients, based on co-construction, support and shared innovation. But there's even more at stake than that. All organizations are also seeing a proliferation of different business models—B2C, B2B2C, B2B, B2G, etc.—sometimes concurrently within a single area of the business, and their teams aren't always prepared for these changes to their sales culture. At major global automakers, B2B sales continue to rise, reaching 30% of revenue or higher, despite the fact that cars have traditionally been the ultimate consumer good. Now e-commerce and advertising sites from the B2C Internet, like Criteo, are making major inroads in the B2B sector.
The user experience is pivotal here. Customers are looking for the same user-friendly, smooth interfaces at work that they are accustomed to when using solutions developed by the tech giants in their personal lives. One example is electronic signatures, which many companies still lack, despite the fact that we have been able to complete contractual transactions online in the consumer arena for quite some time now. Or, from a different angle, how high-ranking employees at major B2B companies are baffled by poor customer service in a store or on a B2C hotline in their private life, compared with the care with which they are treated in the professional world. The divide between B2B and B2C is shrinking and less easily accepted.
The current pandemic crisis has brought into sharp focus the weaknesses of sales organizations insufficiently prepared for these trends. For some this may be added-value services or digital sales tools, for others the channel-based structuring of sales processes, or the skills of the sales teams tasked with implementing these changes to the business model. The current situation calls for faster transformation of the sales function.
Speeding up change amid the crisis
The crisis revealed the limits of many sales organizations.
The companies that fared better than the rest, which demonstrated this much-vaunted resilience, were those who formed close-knit client relationships rooted in advice and co-creation, which enabled them to rise in the value chain by becoming a stakeholder with a reputation for innovation. In this way, the crisis really laid bare just how solid—or fragile—the ties between clients and their partners were. And it provided definitive proof, if there was still any doubt, of the effectiveness of key account approaches, which are often pursued but rarely developed to maturity.
One of the most visible changes was how remote selling became widespread.
Sales teams suddenly found themselves hit with travel restrictions, so they had to ensure business continuity—or limit lost revenue—by setting up remote relationships that represented a radical departure for a profession traditionally built on handshakes.
This new state of affairs has been a mixed bag. While it has diminished interactions in some respects—much less informal chat, shorter attention spans, fewer non-verbal cues—it does have certain advantages: contacts with more availability, the elimination of distance barriers, and time saved on travel.
Before the crisis, sales representatives spent nearly 14% of their working hours traveling. This time can now be used for prospecting or training.
The shock of the crisis, which caused a slowdown (or strong increase) in activity, has also led to radical restructuring of sales organizations.
For example, some teams that focus on small clients have been reassigned to larger accounts. They have gone from taking calls for orders to making calls to prospect for new projects. For others, such as in healthcare where the clients are too busy dealing with health emergencies to be reached, salespeople have had to develop new communication methods like social networks or apps like WhatsApp that had previously only been used for more personal conversations.
In short, it's been a crisis that has called on companies—and their sales forces—to step up their efforts.
To be more agile and efficient, but also braver in many cases. For example, they've had to be the bearer of bad news, informing clients of delivery delays, to negotiate price hikes and select the clients on which to focus their resources.
Similarly, customers have sometimes had to experience first-hand the often-forgotten concept of a "high-risk supplier" and scramble to find alternatives. This has provided a timely reminder of the value of a supply chain that is local, reliable and high quality—a development which has created new opportunities for salespeople.
The conditions for success: general management's mindset and investment in teams
The health crisis has advanced many people's thinking on the strategic component of the sales organization.
It's up to sales staff to secure business continuity and the company's future during difficult times, to build loyalty among strategic accounts and capitalize on situational adjustments such as updated or enhanced service offerings, or even pivots to new business lines. Salespeople are the ones who defend prices in sectors experiencing an inflationary period, when it is important to explain and justify costs to clients.
The crisis has also brought opportunities.
It has removed distance barriers, enabling sales teams to coordinate closely across a continent or large corporation. Remote relationships are the new normal, so it's much easier to roll out tools, processes and training in all countries at once. It often becomes clear that the same drivers are effective everywhere. It's no longer possible for a region to push back on changes due to their "unique situation"! Most of the French decision-makers queried by McKinsey actually recognize the benefits of the crisis for their sales model.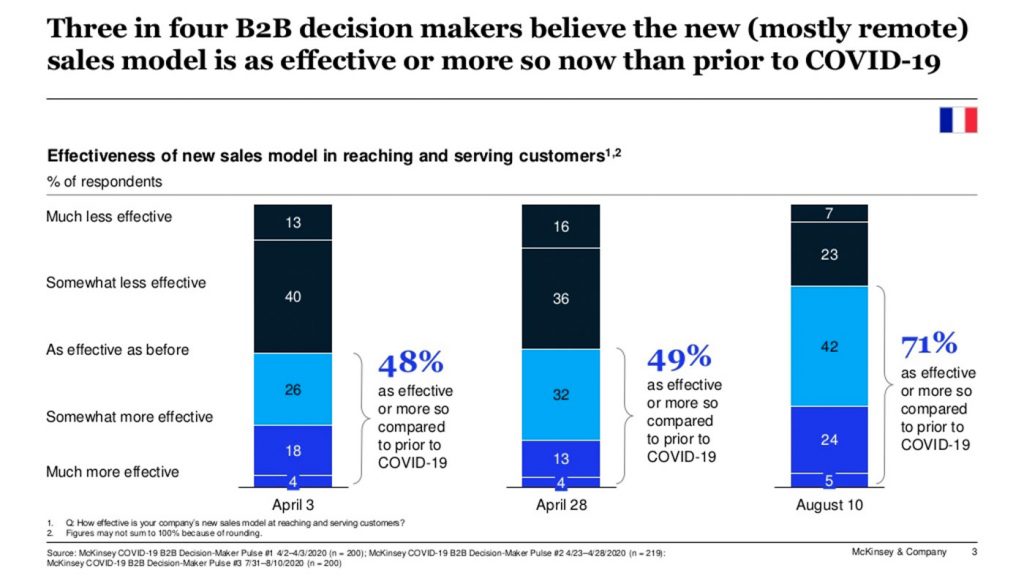 But execution is still paramount…
It's not enough to size up the challenge. You have to move beyond the realm of good intentions and execute your plan "on the ground." That's our mission at Halifax.
We take a comprehensive approach to sales performance drivers, which combines high-level proficiency in tools (with a vast array of sales tech solutions), expertise in processes for designing an efficient organization, and assessment, to ensure that employees are the perfect fit for the roles to be filled.
We offer remote training in 15 languages, to provide "just-in-time" skills at the workstation, as part of a personalized, long-term approach with a healthy dose of feedback for the learners.
We provide expertise as a pure player in sales, delivered via proprietary content enhanced by highly prestigious partnerships with the academic and business worlds, in a wide array of digital formats: e-learning, serious games, mobile learning, microlearning, adaptive learning, etc.
2020 was a very challenging year, but one that revealed the linchpins to future business success.
2020 also showed us that sales organizations are a key driver of companies' transformation and resilience.
That's what motivates usevery day and what we bring to the table for all our clients in France and further afield. The influx of capital from our new minority financial partner Capitem Partenaires will further boost our ability to innovate and enable us to provide even better guidance worldwide.
To sell is to transform So let's work together to transform how we sell!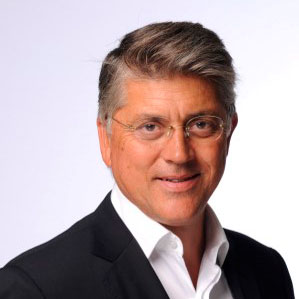 Frédéric Vendeuvre Founder & CEO, Halifax Consulting